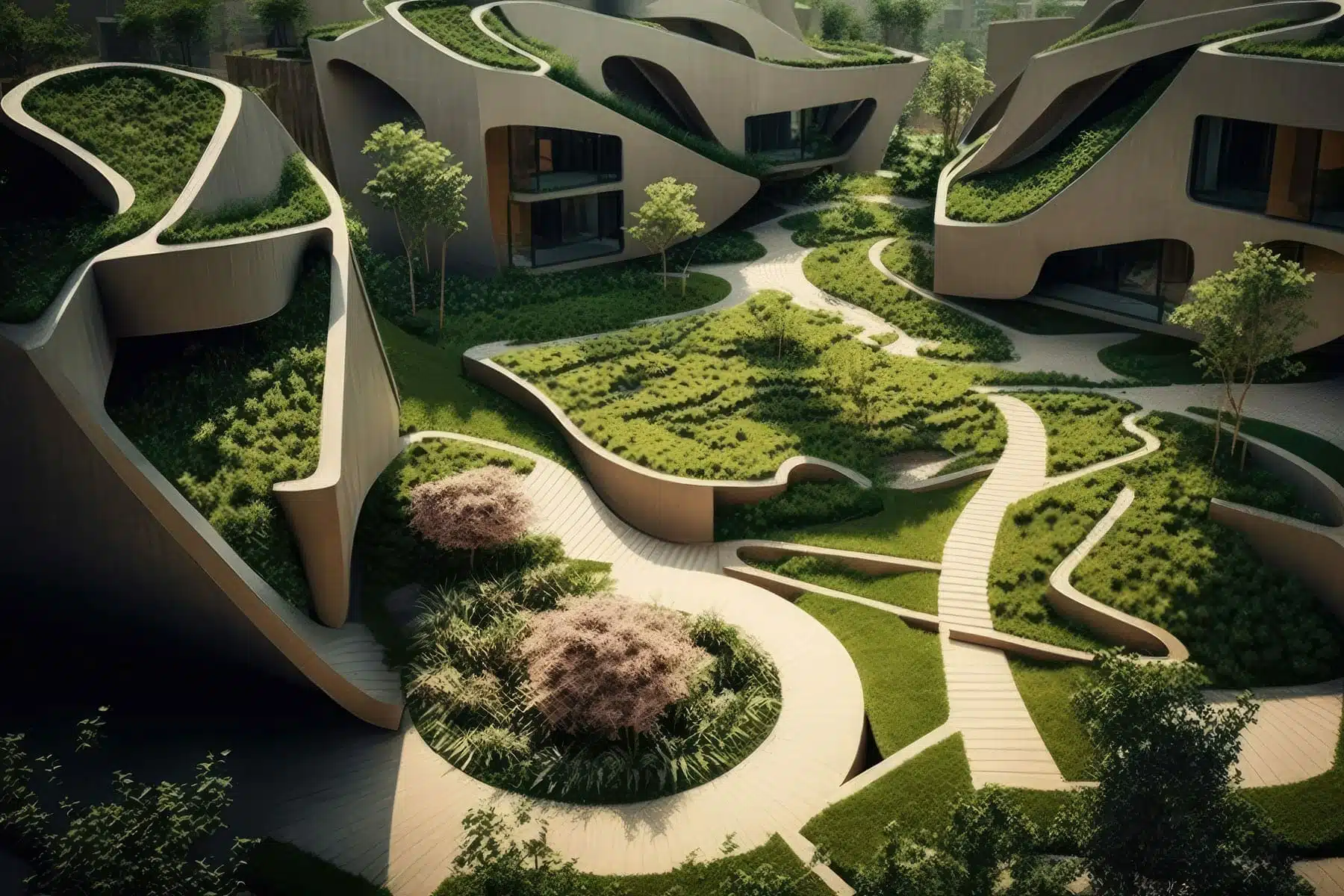 Sustainable landscape design strategically uses plants, materials, and other features to create a more environmentally friendly and efficient outdoor space. Create a more natural habitat with fewer toxins while reducing your maintenance and costs using the principles of ecological landscape design.
The landscape architects at Think Architecture are here to help. We care about sustainability and employ eco-friendly landscape design principles whenever we can. The designers at Think Architecture earned and maintain LEED accreditation by learning, practicing, and promoting sustainability strategies in our designs.
This guide to sustainable landscape architecture will explain how sustainable landscape design can benefit your home and lay out how to put environmental landscape design principles to work in your yard.

What is Sustainable Landscape Design?
Sustainable landscape design is the practice of crafting an outdoor space to comply with a set of principles that make it a functional, thriving, and ecologically-friendly yard. The main tenets of eco-friendly landscape design include reducing water consumption, soil erosion, and waste. Sustainable landscape architecture could consist of anything from a native plant garden to a rainwater collection station.

Benefits of Sustainable Landscape Design
Sustainable landscaping benefits you as well as the environment. It reduces the need for pesticides and fertilizers near your home. It requires less maintenance from you. It conserves water and reduces water pollution. And it fosters wildlife while remaining energy efficient.
Sustainable landscapes have a lot to offer, but to get those benefits, you'll need the features that provide them. So, let's take a closer look at some architectural components that can come from sustainable landscape design principles.

Components of Sustainable Landscape Design
Two of the main places you can put environmental landscaping to use are in your vegetation and the building materials you choose.
In the Garden
Green landscape design begins in the garden. Fortunately, sustainable gardening still gives you crop options.

Native Plants
Native plants are the vegetation that grows naturally in your local environment. Native plants have already adapted to thrive in the soil and climate of the area. Native plant landscaping requires less maintenance, fertilizer, and pesticides than non-native plants.
To follow sustainable landscape design principles, use native plants for a sustainable garden wherever it's possible to do so. Think Architecture can help you create landscaping with Utah native plant species.
.
Edible Gardens
Edible gardens are another great organic landscaping option for any outdoor space. Farming & growing plants that you can eat or use is one of the best ways to improve your landscape. You can't go wrong with a fruit or vegetable garden. Not everything you grow has to be green to be a green landscape feature. If you have limited space, opt for an herb garden.

Wildlife Habitats
Another feature of environmental landscaping is a wildlife garden. Attract squirrels, birds, and butterflies to your yard by creating environments where animals can thrive. A garden, pond, marsh, or meadow could all work.

Rain Catchment
Before we leave the garden, let's touch on a way to conserve water while keeping the plants hydrated—rainwater harvesting. Setting up a rain reclamation apparatus is a great way to save on water consumption. You could collect dozens of gallons of water from just an inch of rainfall. You can then use that water for your garden on dry days instead of water from your meter.

Hard Landscape Design Elements
Now that we've talked about what to grow for a green landscape let's talk about the materials that can help further sustainable design principles.

Reclaimed Building Materials
Creating building materials, especially lumber can have a substantial environmental impact. You can reduce that impact by using reclaimed building materials for any of your outdoor structures. Use reclaimed materials whenever possible if you're building a fence, retaining wall, or storage shed.

Low Maintenance Structures
Another way to reduce material consumption is by building structures that can last long with little maintenance or repairs. Use natural hedges instead of a fence. If you do build, use stone instead of wood when possible.

Water Conservation Design Elements
Employ water conservation strategies in your sustainable landscape design. Instead of covering the backyard with a lawn, opt for gravel or mulch. These materials can replace grass without creating a heat seal like concrete or asphalt. Landscaping using gravel, sand, mulch, and drought-tolerant plants is sometimes called Xeriscape design.

How to Create a Sustainable Landscape Design
Ready to put your newly learned sustainable landscape design principles to the test? Here's how to get started.
Assess Your Space
You can apply sustainability principles to spaces of any size, but some features may work better than others for a given area. Understanding how much space you have to work with will help you choose which design elements to install.

Sustainable Landscaping Ideas for Small Spaces
If you have a small space, plant an herb garden or a butterfly garden. If the area is tight, you can create a vertical garden with crates or pots attached to a fence or wall.

Ideas for Large Space
If you have a large space, consider replacing all or most of the lawn with gravel or mulch. Plant a big vegetable garden and water it with rain you collect in your rain barrel. Share the food with the natural wildlife, friends, and neighbors.
Create a Sustainable Design Plan
Once you know what features will fit in your space, it's time to map them out.

Select Plants
Choose the native plants you plan to grow. Decide if you're harvesting fruits and vegetables or growing a garden of native flowers to make a feeding field for local pollinators. Talk to a local herbalist. They may be able to recommend other plants that supplement your plant well and further reduce the need for pesticides.

Choose Complementary Materials
Decide what material you plan to use for any ground fill. If you plan to erect any structures, search your local area for reclaimed materials. Sometimes you can even find them for free!

Create a Maintenance Schedule
Keep the benefits of sustainable landscape design rolling in yearly by maintaining the features you install. Start from day one with a clear plan for how you expect to retain your environmentally-friendly landscape.

Hire a Professional
With a plan in place, you're ready for the landscaping crew to begin work. That's where we come in. Think Architecture provides landscaping architecture services that fit your principles and your yard. Our LEED-certified architects know the materials and strategies needed to create a fantastic landscape that adheres to sustainable landscaping design principles.
Contact us today to learn more about how Think Architecture can help you create your dream sustainable landscape.